Haridwar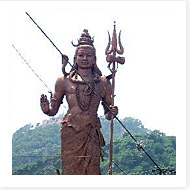 A paradise for nature-lovers, Haridwar presents kaleidoscope of Indian culture and civilization. Haridwar also termed as 'Gateway to Gods' is known as Mayapuri, Kapila, Gangadwar as well. The followers of Lord Shiva (Har) and followers of Lord Vishnu (Hari) pronounce this place Hardwar and Haridwar respectively. Haridwar is a very important pilgrimage center for the followers of Hinduism, as it is a point of entry to Dev Bhoomi and the Char Dhams; Badrinath, Kedarnath, Gangotri and Yamunotri.

Haridwar is one of the first towns where the river Ganga emerges from the mountains to touch the planes. Lush green forests and small ponds add to the scenic beauty of this holy land. The Rajaji National Park is just 10 km from Haridwar. Its an ideal destination for wild life and adventure lovers. In the evening the ghats look breathtakingly beautiful as thousands of diyas (lamps) and marigold flowers float and illuminate the holy waters.

Haridwar is also one of the four places; where Kumbh Mela occurs after rotation of every twelve Years and Ardh Kumbh after every six years. It is said that drops of Amrit (Elixir) fell in to the Brahmkund of Har-Ki-Pairi, therefore considered that a dip in the Brahmakund on this particular day which is very auspicious and when Jupiter (Brahaspati) comes to the sign Aquarius (Kumbh) once in every twelve years the Maha Kumbh fair is celebrated at Haridwar.


Places of Interest
CHANDI DEVI- 6 km.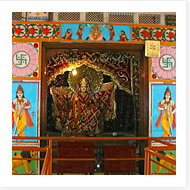 The temple of Chandi Devi atop the Neel Parvat on the other bank of river Ganga was constructed in 1929 A.D. by the king of Kashmir, Suchat Singh. It is a 3 km trek from Chandighat. Legend has it that the army chief Chanda-Munda of a local demon King Shumbh-Nishumbha was killed by goddess Chandi here, after which the place got the name Chandi Devi. It is believed that the main statue was established by the Adi Shankracharya in 8th century A.D. One can reach here by Trolley through ropeway or on foot. The 'Udan Khatola' (Ropeway) can be booked through phone services at 01334-220324, Time-8.30 AM to 6 PM.
MANSA DEVI TEMPLE - 0.5 km.
Situated at the top of Bilwa Parwat, the temple of Goddess Mansa Devi is a popular tourist destination, especially because of the cable cars, which offer a picturesque view of the entire city. The main temple houses two idols of the Goddess, one with three mouths and five arms, while the other one has eight arms.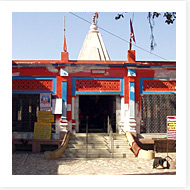 MAYA DEVI TEMPLE - 0.5 km.
Dating to the 11th century, this ancient temple of Maya Devi, the Adhisthatri deity of Hardwar, is considered one of the Siddhapethas and is said to be the place where the heart and navel of Goddess Sati had fallen.
HAR-KI-PAURI -1.5 km.
View of Hari-ki-pairi.This sacred Ghat was constructed by King Vikramaditya in memory of his brother Bhartrihari. It is believed that Bhartrihari came to Haridwar and meditated on the banks of holy Ganga. When he died, his brother constructed a Ghat in his name, which later came to be known as Hari-Ki-Pari. This sacred bathing ghat is also known as Brahmakund. The reflection of golden hues of floral diyas in the river Ganga during the Ganga Aarti ceremony is an enchanting experience.
DAKSHA MAHADEV TEMPLE -4 km
.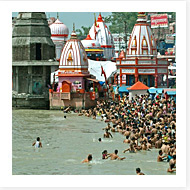 The ancient temple of Daksha Mahadev is situated in the south Kankhal town. According to Hindu mythology, King Daksha Prajapati, father of Sati (Lord Shiva's first wife), performed a yagna here, to which he deliberately did not invite Lord Shiva. When he arrived uninvited, he was further insulted by the king, seeing this Sati felt was infuriated and self-immolated herself in the yagna kund.
King Daksha was later killed by the demon Virabhadra, born out of Shiva's anger. Later the king was brought to life and given a goat's head by Shiva. Daksha Mahadev temple is a tribute to this legend.
SATI KUND - 4 km.
Sati Kund, another well-known mythological heritage worth a visit is situated in the Kankhal. Legend has it that Sati immolated herself in this kund.