Rishikesh, a most tranquil place in northern Uttar Pradesh, surrounded by hills and bisected by the wide and sluggish Ganges, is often claimed as the `Yoga Capital of the World'.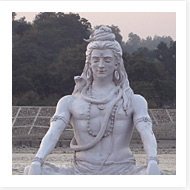 Back in the 1960s Rishikesh gained instant fame as the site where The Beatles came to stay with their guru, the Maharishi Mahesh Yogi. It is an excellent place to meditate and study yoga.
Rishikesh is also a good starting point for treks to Himalayan pilgrimage centres such as Badrinath, Kedarnath , Gangotri, Yamnotri.It is rightly called the gateway to the Himalayan Shrines of Badrinath, Kedarnath, Gangotri and Yamunotri. Situated 24 km upstream from Haridwar, at the confluence of the Chandrabhaga and Ganga, Rishikesh has long been a spiritual centre. It is said that the sage Raibhya Rishi did severe penance here and as a reward, God appeared to him in the form of Hrishikesh, hence the name.
Rishikesh has numerous ashrams, some of which are internationally recognized as centers of philosophical studies, yoga and meditation. An international yoga week is organized here every year by U.P. Tourism between 2nd and 7th of February. For the adventurous, there are opportunities for white water rafting on the Ganga. The climate here is continental type but its location in the foot hills gives it a pleasant weather throughout the year. One can visit Rishikesh any time of the year.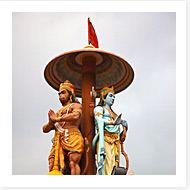 The town of Rishikesh lies in the foothills of the Garhwal region. It is the gateway to the upper Garhwal region and the starting point for pilgrim routes to the four dhams of Uttarakhand-Badrinath, Kedarnath, Gangotri and Yamunotri. The Ganga flows through the town and is worshipped here. After this it descends to the plains at Haridwar.The whole place is considered to be sacred as it is believed that meditation at this place leads to attainment of salvation. There are many temples-some ancient, some new along the river Ganges. The River side is dotted by the ashrams of Sadhus and sages.
The sacred river Ganga flows through Rishikesh. In fact, it is here that the river leaves the Shivalik mountains Himalayas, and flows out into the plains of northern India. Several temples, ancient as well as new, can be found along the banks of the Ganges in Rishikesh. The city attracts thousands of pilgrims and tourists each year, from within India, as well as from other countries. Rishikesh, sometimes nicknamed "the world-capital of Yoga", has several yoga centres that also attract tourists. It is believed that meditation in Rishikesh brings one closer to attainment of moksha, as does a dip in the holy river that flows through it. It is also becoming a popular spot for white water rafting enthusiasts, both from India and abroad, as it offers medium to rough rapids in the course of river Ganges.